This site is continuously under construction
by Mike Freeland and its visitors. Use the Forum and Personal Galleries!!
This website is dedicated to Garth Nelson
Announcements
July 24, 2017
Fantastic Reunion!
June 24, 2017 at Hopkins' Windy Top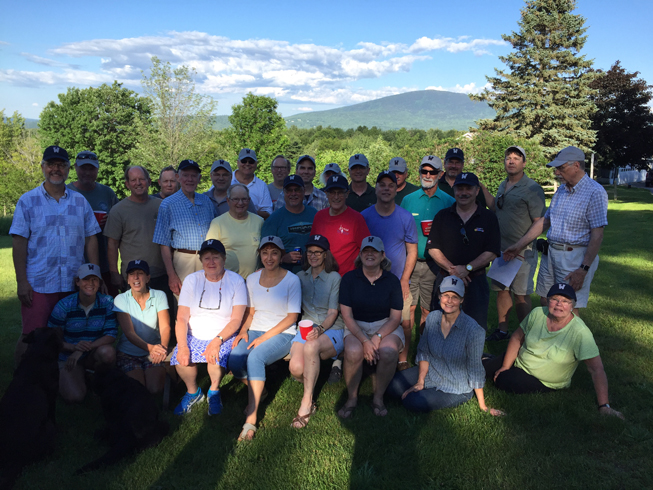 Wyanoke History: 1909 - 1941
Several people have asked about the status of Bob Fox's Wyanoke History from 1909 - 1941 - the W. H. Bentley Years. Here's the status, which you should get as an email at some point too.
First, thanks for showing your interest in the upcoming History of Camp Wyanoke, 1909 - 1941 being penned by Bob Fox. I know that some of you have inquired about it - we're obviously behind schedule.
The purpose in my writing now is to tell you all that I'm personally the current bottleneck in the completion of the book. I'm in the final stages of editing the last chapter as we speak, but I've been panicky-busy with other obligations too, and taking three of the last 7 weeks off for back-east travels didn't help matters on any level.
Also, we've received some new historical perspectives in the form of handwritten memories of Frank Huntress (W 1943 - 1948), who looked at the current iteration of the book at the recent reunion and added his own recollections. Though his seven years at Wyanoke began in 1943, after the span this book covers, his personal views and observations of Camp from that perspective will be incredibly valuable. And, some fascinating information about a black family's association with Wyanoke in the mid 1910s also came to light recently and needs to be included in the final document.
So, I ask that you be patient and bear with us. Those of us working on this have agreed that no good purpose could be gained by rushing. We're on the downhill side of the mountain now, and we all want this thing to do justice to the incredible amount of time and research Bob and Dana, Tom and Dave Bentley have devoted to this.
You have my apologies for my sluggishness. And I thank you for your patience

Mike Freeland
.
Also,If you'd like a copy of this history of Early Wyanoke
Please send me an email (Mike @ Wyanoke).
~~~~~~~~~~~~~~~~~~~~~~~~~~~~~~~~~~
The Golden Arm!
Click HERE to go to the Council Room and hear BMB re-tell the beginning
of The Golden Arm, 1968

~~~~~~~~~~~~~~~~~~~~~~~~~~~~~~~~~~~~~~~~~~~~~~~~~~~~~~~~~~~~~~~~~~~~~~~~~~~~~~~~~~~~
Registering in the Council Room Forum
You do not need to register in the Council Room to read, listen to or download anything (only if you want to participate in the discussions). It's a good idea to register, though, because it's the only collection of contact information exclusively for Wyanoke alumni in existence.
If you want to register in the Council room, please email me, Mike Freeland (mike@wyanoke.com), and I'll pave the way to get it done. Registration is suspended currently because of an epidemic of phony and robotic advertising registrations.